Hireglyphics Recruiting
Feb 05
For the Insomniac, Series Part 3 of 3: When it feels like mission impossible…
6) Go to sleep earlier. You probably wake up later than you desire because your body has been accustomed to sleeping for a certain amount of hours. Keep a consistent sleep schedule and remember, the earlier you sleep, the more hours you'll be able to fit in, and the earlier you'll be able to wake up. For example, if you know that your body needs at least 6 hours of sleep before you can naturally wake up and feel revitalized, and you have to wake up for 7AM, do the math - the latest you should go to bed is at 1AM or you know you won't be able to make it to that meeting tomorrow morning. Research shows that it takes up to 30 days for someone to get into any habit so try to sleep earlier and keep it consistent for at least 30 days and know that every day after that, it'll feel a little easier.
7) Get a friend to give you a wake up call, or text - and do the same for them. The rule? Whoever wakes up first has to give the other one a call. If you have a chatty friend, you'll probably want to opt for the wake up text but hold each other accountable for waking up each other up in the morning. To ensure that your friend actually gets up, consider asking them to walk to their bathroom or kitchen and run the water so that you can hear it over the phone. By doing this, it forces them to get out of bed (unless they're already sleeping by running water).
8) Avoid comfy surfaces. Don't go back to your bed after waking up - or to a couch, or to any dark rooms. These things will make you want to go back into hibernation mode! The goal is to avoid the temptation to go back to sleep. We know it'll be difficult when you haven't achieved the necessary hours that your body needs, but just do it to get back into the habit of waking up early and you can thank us later.
Feb 01
For the Insomniac, Series Part 2 of 3: You snooze, you lose!
4) Don't hit the snooze button! We're probably all guilty of this but we need to stop. Although you may think that the extra 5-15 minutes will help you, it will actually make you feel more tired and groggy. Hitting the snooze button will also become a nasty habit. If you're annoyed of your alarm tone, try to change it so that it won't negatively affect your attitude when you wake up. Also, if you can, try to set your alarm to a different tone, or to shuffle every day so that you don't know what to expect before waking up. A tip to get yourself out of bed is to put your alarm clock across the room from you, forcing you to get up and walk to turn it off. If that doesn't work, consider using more than one alarm clock - either with your phone app or buying one, and leaving it on a different side of your room, away from your bed, and away from the first alarm. There are also many apps which will require you to solve puzzles and math problems before the alarm will shut off. These apps usually allow for personalization so you can set the volume, numbers of questions answered correctly to be able turn off the sound, level of difficulty for questions, and etc. Experiment a little bit, and conquer your alarm clock(s)!
5) Develop a morning and night routine. To have enough energy to sustain you through the day, you have to recharge during the night and get your body warmed up for the marathon (think of this as your day). Consider the following: wake up, do some stretches in bed (maybe some yoga and meditation which is essentially breathing deeply), get groomed, head to the gym, then grab your morning breakfast/coffee (remember, only have this during the morning hours to avoid insomnia), and head to work or to your morning activities. Night routine tip: use your bathroom before going to bed (to lower the chances of you having to get up in the middle of the night, and having to try to fall back asleep)! You are training your brain to wake up earlier.
Jan 29
For the Insomniac, Series Part 1 of 3: Cut the distractions!
With the cold, wet weather in Toronto, we don't blame you for being in hibernation mode; however, as the old saying goes, "the early bird gets the worm" so we've compiled a series of tips tricks to help you get back into the habit of waking up earlier and getting a better night's rest!
1) Mind the caffeine. So we all know this one already - caffeine keeps you awake, but did you know that even if you had a coffee in the afternoon, it can still disrupt your sleep just as much as if you were to have it 3 hours before heading to bed? Yeah. Instead of coffee, skip the midday caffeine run and opt for a glass of juice to energize and refresh your mind and body. Also, drinking a glass of warm milk before you go to bed will help you fall asleep sooner than later.
2) Hide the technology. Try to use your bed for relaxing purposes only and avoid all technology. This means that if you want to get your final dose of Facebook, Instagram, or YouTube before heading to bed, you should do that at your desk and at least 2 hours before you plan to go to sleep. Looking at the bright screens will strain your eyes and keep your mind awake, ultimately limiting your sleep.
3) Make peace with your spouse. Seriously. Resolving any conflict with your spouse will help you better fall asleep. Communicate with them and don't go to bed angry at each other because not only will your problem still exist in the morning, but also because the both of you will most-likely keep yourselves awake just thinking about it. Also, this negative energy before you go to sleep will also affect your attitude when you wake up as well as your attitudes and behaviours throughout the day! Let it go.
Jan 20
3 Steps to Creating an Awesome Company Culture
1) Create a compelling vision (think memorable, short, and sweet) and communicate this vision with your (potential) employees. It's crucial to hire the right people for the job and who "fit". During interviews, consider asking "What inspires you?" and look for the people who have a vision parallel to your organization's. Also, when you're welcoming new employees into your company, it is crucial to communicate this vision again because it will give them a feel of the organization, and the team (casual, formal, hard-working, innovative, passionate). By clearly commuting a memorable vision, everyone will be on the same page towards the same long-term goal. 
2) Determine your purpose and don't just focus on the "what" (the product, service) - focus on the "why" (why are you doing it). Ultimately, your business is to make money but it's important to have a purpose whether it is to be socially responsible or to exist to solve a need. This will help you attract employees with the same values and as a result, you will also see that you will attract like-minded customers who will stand behind your products and services. Think like a winner, act like a winner.
3) Establish your values. To create an awesome company culture, your organization must embody it's own values. Ensure that nobody is left out of big announcements and encourage your employees to have casual conversations outside of work so that they are able to connect on a more empathetic level. Work hard, play hard, and celebrate the differences. Awesome cultures include diversity and acceptance of other's differences. This sense of connection will ultimately keep your employees motivated.
Jan 18
Social Recruiting
In 2012, Bullhorn Reach conducted a study on social recruiting activity and the social media platforms most used by Recruiters: LinkedIn, Facebook, and Twitter. Are you in our networks?
Dec 28
13 Powerful Networking Tips and Tricks (Part 3 of 3)
Here's the end of our Power Networking Tips - try using these at your New Year Eve party and let us know how it went via our Twitter - @Hireglyphics!
10) Give a firm shake. A firm hand shake should be accompanied by eye contact and good posture which will convey confidence. However, be careful not to crush the other person's hand, or be too timid with the shake. A good rule of thumb is to mirror the grip of the other person's strength.
11) Ask open-ended questions. This is the key to networking and sustaining a conversation. It is good practice to brainstorm a list of potential questions to keep a conversation (i.e. How did you get involved with X) prior to the event. Though avoid scripting your questions and answers when conversing or it can easily start sounding like an interview! Stay sincere by listening to what the person is saying and reacting to it in a civil matter. People can usually recognize when you're being fake, and it just looks really bad. Keep in mind that if an event is held in the evening time, after work, many people will not want to talk about their work so be prepared to discuss other topics such as: life, travel, and experiences. Avoid topics such as religion and politics, but just remember not to ask close ended questions with answers such as yes and no. With that being said, don't give one word responses. It will definitely lead to awkward silences and make you sound uninterested (i.e. how was your day? Good.) Focus on building a mutually beneficial relationship.
12) Follow up! The follow up is very important after networking, especially if you are at a networking session with a sea of other people. For a person such as a recruiter, they may be talking to over 25 different people and attending over 50 events per month. Chances are they may not remember you on the street if you've only met them once. Make it a point to send a follow up email briefing the great conversation you had at Event X. Send an invitation to connect on LinkedIn to strengthen your relationship for long term benefits, and remember, keep it short, sweet, and professional.
13) Keep your network organized. There are many mobile apps to help you organize your database of contacts, and their business cards. A trick to remembering the people you've met through their business cards is by writing the location, conversation topics, and date where you've met them on the back on the card. That way, if you come across their card again, you won't forget them and can easily reconnect again based on your commonalities. For storage, keep the cards organized by year, or if you go to a lot of events, organize the box into monthly sections, or perhaps by event themes (i.e. Networking, Workshop, Start Up, Music, Tech, Foodie, MeetUps, etc.) If you have time, consider making a digital database. All you really need is a spreadsheet. Remember to keep every card and keep in touch.
Dec 19
13 Powerful Networking Tips and Tricks (Part 2 of 3)
Your network is your net worth.
6) Arrive early. Absolutely resist the urge to delay your attendance. We understand that you may be nervous going into the room but try to arrive approximately 10 minutes at Registration before the event begins. Walk around the premises to become familiar with the environment if you need but remember that it will be a much calmer environment and ultimately easier for you to find a conversation partner if you arrive before the crowd. Going late to the event is probably one of the worst things you can do - especially if there is an event kick-off speaker. The early bird gets the worm.
7) Go prepared with an elevator pitch. Every opportunity is a networking opportunity. Don't be afraid to join different conversation groups and work the room - let them know who you are. You can usually tell the tone of the conversation by the postures of the people present. Laughing is a good sign. When appropriate, you can also ask about a potential job opportunity while networking, but try not to sound desperate (even if you've been unemployed for over a year)! Be articulate and phrase your questions and answers in way where the outcome would be a win-win for the both of you. If the person does not have the answer to your question, they may be able to forward you to someone who will - just don't forget to exchange business cards and remember, no matter what happens, just be nice - you're always being watched.
8) Be on trend. Read the newspapers, check out a couple blogs relating to the theme of the networking and session you're going to attend, and check Twitter for any interesting trending topics that could have a professional twist before you enter the event. It is much easier to connect with people on shared interests and events than try to hold an interesting conversation about the weather. Just be empathetic without losing yourself.
9) Bring a Wingman/Woman. When we say bring a buddy, we don't just mean any one of your friends. Tailor the people you bring to each event for maximum benefits. For example, if it is a tech-startup event, consider bringing a friend from the tech or startup space. Some people may argue that bringing someone along may show a lack of confidence; however, if you co-ordinate your goals, it can make it a lot easier to break the ice and make each other look awesome. The trick is to bring someone who can compliment you so you're not tooting your own horn through the event. Introducing your wingman/woman to different people and have them introduce you. If you couldn't bring anyone, don't worry about - make a friend. There is often one person who will be wandering alone in the room, or standing by the food and beverages so grab them - introduce yourself and spark a conversation, or ask them to be introduced to someone they know. Stay humble.
Dec 11
13 Powerful Networking Tips and Tricks (Part 1 of 3)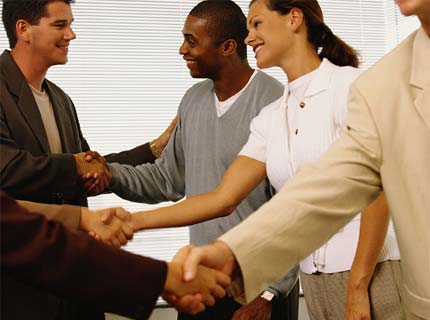 By now, we've all heard that networking is essential to furthering our careers; however, we at Hireglyphics understand that networking events can be pretty daunting. Some people think interactions at networking events lead to insincere connections but here are some tips to help you stay sincere, and thrive at your next opportunity. Stay tuned next Tuesday for more tips and tricks!
Tip #1: Establish your goal. There are two main categories of people who go to networking events: people who need assistance, and people who are looking to exploit an opportunity. Think about what you want to achieve out of the networking session. Are you looking for a job, an internship, or are you looking to simply expand your network? Once you've established your category and have your goal in mind, you'll be ready to go get 'em, tiger!
Tip #2: Do not judge a book by its cover - do your homework. Many event platforms will publish a list of attendees. From this list, pick a few people who seem interesting to you and do a little research on them (this is in case of any potential conversations that may arise). You can never be too prepared. You want to be friendly, and approachable because these people could be the key to finally working at your dream organization - and even if they're not, at least you've expanded your network. Do not dismiss someone because they do not look interested or is dressed differently. Alternatively, do not attack the keynote speaker! Many networking events will have a keynote speaker and often, they are the first ones to be schmoozed. Remember to be smooth. This person could be your next employer, business partner, or client. Remember to take the time to communicate with the people you meet, and listen to what they have to say. Find out as much as you can about them, and more importantly, see if you can add value to their business.
Tip #3: First impressions count. It will only take 7 seconds for someone to make up their mind about your character. Smile, and make sure that you look welcoming. A bad first impression can take up to 20 further interactions to change so be the presentable, passionate you. Also, be aware of the attire required for the networking session (smart-casual, business casual, formal). If you are unsure about the attire, make it a point to ask the host, and when in doubt, stay between smart-casual and business-casual. Gentlemen, this means everything between a pair of jeans and a blazer pairing to a dress shirt and dress pants - don't forget to shine your dress shoes. Ladies, a blouse and dress pants, conservative dress, or dress shirt and pencil skirt pairings will be acceptable. For shoes, consider flats or a low heel. No pumps.
Tip #4: Keep a napkin in your pocket - and no, this is not to catch someone's sneeze. If you're the kind of person who gets sweaty palms when they're nervous, consider keeping a napkin in your pocket to soak your sweat before shaking someone's hand. With that being said, you can keep one of your hands in your pocket when you're not talking to anyone and are looking around the room. If someone approaches you, you can then take your hand out of your pocket and be ready to introduce yourself with your dry, and awesome palm. Ta-da!
Aug 30
Series: Job Seeking Tips (Part 10 of 10)
We have come to the end of our Job Seeking Tips and perhaps you've discovered that even after all the research and interviews, you don't want to work for an employer - and that's okay. Consider this last tip.
28) Start your own business. Maybe you weren't a "good fit" for a of couple companies, but who says you have to work for the big boss anyway? Self-employment can mean freedom, more flexibility, and in some lucky cases, more money! Remember, if you have a great idea, don't be afraid challenge yourself and take the plunge! Go out and talk to the people you trust, and who have started a successful business. Share your vision, and listen to them with an open mind. Get different perspectives, and soak in all the feedback and criticism. An experienced, credible entrepreneur would make a great mentor to help you create your first business plan and find potential and suitable revenue models for your business. Mentors are also great for steering you away from putting all your eggs into one basket, and re-aligning you with your goals. Now, in regards to finding mentors and funding for your business, there are tons of startup events around the city, and many resources available, so don't ever feel discouraged. It's not going to be all rainbows and butterflies at first - in fact, it's going to take a lot hard work (which will most-likely mean living off ramen and caffeine for the next couple of months), but Toronto is a great entrepreneurial city with tons of support from the startup community. Just remember to do your research and stay motivated. Best of luck!
Aug 20
Job Seeking Tips (Part 9 of 10)
We're nearing the end of our series, and assuming you have successfully completed Job Seeking Tips #1-24, here are a few more tips you should consider.
25) Stay persistent. Job searching and campaigning all day can be hard work and there may be times when you will get discouraged, but don't let the negative feelings take over your enthusiasm. Take an entrepreneur's approach - if your initial strategy doesn't produce the results you want, rather than being triumphed by adversity, try a new strategy until you find the best strategy for success.
26) Attire. Don't try to be a trend-setter if you're not (especially if you're interviewing for a conservative corporate position). You don't have to spend $1000 on a suit, but make sure that your ensemble is at least business casual. This means that your clothes should be clean, ironed, and well fitted for your body type. Think along the lines of shiny shoes - dress pants or skirt, a nice dress shirt, and Gentlemen, don't forget the tie.
27) Accept the offer and continue to develop your career action plan. Congratulations! Assuming your job search campaign was successful, it is now time to accept one of the many offers you've been given. Which ones? Repeat Tip #9. Use this tip to narrow down your potential employers and determine which employer will help you better achieve your goals. Accept this potential employer, and also don't forget to send a note to all the people who helped you job hunt!
Aug 16
Job Seeking Tips (Part 8 of 10)
By now, you should already have an updated resume, a stack of business cards ready to leave your holder, quality contacts, and a vast amount of knowledge about the industry where you'd like to work. Now what?
22) Plan and conduct a job search campaign. Target your success date and decide how much time you can put into your job search per week. You can plan a strategy towards your target date by working backwards. Avoid procrastinating - easier said than done, we know but whatever it is that is holding you back, dodge it and keep your eyes open on the prize. Don't be the potential, awesome candidate that missed the hiring cycle - stay aware of the job opportunities and seize it. 
23) Follow-up. It is important to follow up after an interview with a thank you letter or email because it helps express your gratitude towards someone who has taken time out of their day to meet with you. However, if you decide to do this, personalize it to the meeting. For example, mention something that you learned from the meeting, or if you feel like you didn't learned anything worth mentioning, review something that the both of you discussed to jog their memory of you.
24) Keep organized. Create a simple spreadsheet to keep track of all the organizations where you want to work; if you've contacted them, date, contact information, status, follow-ups, and notes. Keeping track of your progress is important because it will help you establish and build your network.
Aug 13
Job Seeking Tips (Part 7 of 10)
Happy Monday-beginning-of-the-week-so-no-more-excuses Job Hunting Day! Let us know how you're doing and if you need any help. Enjoy Part 7 of 10!
19) Show your face. This one almost seems obvious, but many people don't show up to their interviews because their nerves get the best of them. Don't let that be you. Showing your face can help your potential employer better remember you as a candidate or a potential candidate for the next opening position. The more exposure you have with others, the more of a chance people will remember you for any upcoming opportunities.
20) Attend career events. There are many career events in Toronto, the GTA, Vancouver, and all around the world. A great place to learn more about these events is MeetUp, a network of all the social, and career, interest-focused local groups from around the globe. Another resource is reaching out to University campus groups and events that may be interested in showcasing alumni like yourself, or hosts Networking Nights open to the public. These events are awesome opportunities to show your face, find a recruiter (Tip #17), practice your elevator speech (Tip #6), and network (Tip #3). Also, don't forget to bring your business cards (Tip #11).
21) Consider working for free. Contracted jobs and volunteering is a great way to review old skills, pick up new ones, gain experience in the industry, and grow your network. Though these jobs are often temporary, they can help you get noticed, and get your foot in the door. Use these positions as a stepping stone. Treat it like a permanent job, and prove your worth to the organization - you're bound to be first in line when they're looking for that full-time staff member.
Aug 09
Series: Job Seeking Tips (Part 6 of 10)
The week is almost over and we're a little more than half way through our job seeking series - did you achieve any of your job seeking goals with our tips? Let us know in the comments below and how we can help!
16) Target your potential employer. To begin, research and make a list of all the organizations where you would want to work. This research could mean from your personal knowledge about a company, to the things you've heard from your networks, to asking Google. The more you learn about these companies, the more your thoughts may actually change so don't be afraid to rank your aspired companies. Once you have your finalized list, concentrate on the top, and start getting in contact with their HR department.
17) Select your Recruiter. Recruitment agencies employ Recruiters - professionals who can help you find job leads. These agencies come in all sizes and price ranges with specialties as well (i.e. Hireglyphics specializes in emerging technologies, and is free for candidates). Some employment agencies have exclusive agreements with larger companies while some have a focus on startups. Aim to work with an agency that will help maximize your benefits.
18) Prepare for paperwork. When job seeking, you want to prepare as much as you can. Before you apply for a position, consider writing down all of your standard information on a separate sheet of paper and think of this as a personal cheat sheet. Your cheat sheet should include your references, dates of hire, and past job contact information. This way, if your potential employer asks you to fill out an application form at their office, you can easily fill it out.
Aug 06
Series: Job Seeking Tips (Part 5 of 10)
Today is the last full day during your long weekend to dedicate to job seeking so let's make the best of these tips below!
13) Learn to Job Search. First, search for the jobs that interest you. Investigate in these job descriptions, and learn more about what you need to qualify. Second, use keywords and look for jobs that match your skills and qualifications. Third, leverage employment websites like Workopolis, and Canada Jobs.
14) Determine your skills, and upgrade your credentials. Review your skills from past experiences: Are you a great leader? What makes you a great leader? Are you a rock star programmer? Do you have a knack for problem solving? To further your career, you must learn more about your strengths and weaknesses, interests, goals, and accomplishments. Make a list of your strengths and weaknesses and pinpoint the areas of improvement (i.e. your weaknesses) and try to find different ways to communicate these points as your strengths. Additionally, learn to become more self aware. As you sift through job descriptions, notice the qualifications needed and consider upgrading your credentials (i.e. getting your PMP) and discover the points that make you an unique and ideal candidate.
15) Personalize your strategy. Develop a strategy to get what you want out of your job seeking sessions. Are you looking to learn more about a specific position? Do you want an interview? Communicate it - and don't be afraid to cold call your potential employers. Cold calling can help you stand out from the crowd. Carpe diem.